Artificial Intelligence and 3D Printing are making history in the medical device world. From AI manufacturing machines to the creation of 3D printed organs to more streamlined processes by the FDA to approve 3D medical devices. Here is a quick overview of what you missed:
Could AI be the next big things for medical device manufacturing?
Wovenware, an artificial intelligence consulting company in San Juan, Puerto Rico, is working with a number of medical device companies to use artificial intelligence to manufacture medical devices. They are currently working with business and quality offices to boost software capabilities of the equipment. The goal is that the manufacturing machines will note a reduction in quality and alert engineers.
3D Printing Part of an 'Unparalleled Period of Invention'
What a time to be alive! 3D printing is making unparalleled strides in the medical device space. The FDA is outlining ways to modernize their 510k program to test for safety and effectiveness in medical devices. The benefits of using 3D printing medical devices reduces costs, waste and fewer steps in the manufacturing process. 3D printing is being further researched by scientists to manufacture living organs as well.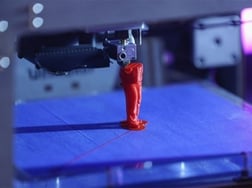 How a pioneering 3D printing technique is revolutionizing healthcare
United Therapeutics is using a collagen 3D printer to structure a lung. Being able to use a 3D printer to print vital organs will be a huge milestone for companies and less waiting time for patients. With the possibility of a printed lung on the horizon, the challenges that await are resolution sizes and cell generation. With committed scientists, 3D printed organs are something we can look forward to within the next years.
Kapstone Medical has the experience and expertise to assist you through all phases of the medical device development and regulatory compliance. For more information contact us today at (704) 843-7852 – or by email at info@kapstonemedical.com.
For more information on the latest Medical Device, Manufacturing, and 3D printing news, follow us on Twitter or join us on LinkedIn!