Adapting to The EU Medical Device Regulation (MDR)

Medical device companies hoping to bring their products to market in the EU will now have to comply with the Medical Device Regulation (MDR), an update from the old Medical Device Directive (MDD). Companies that were already compliant with the MDD will need to pay close attention to this updated regulation, which departs from the MDD in several key ways.
Keep reading for an overview of three important differences between the MDD and MDR, and don't hesitate to get in touch with a member of our team to resolve additional questions.
Why was the MDD updated?

The MDD has been in effect within the EU since 1993—27 years ago! The medical device landscape has changed drastically in that time and led to the need for a more comprehensive and technology-aware set of regulations. Software-enabled devices, for example, were still a long way off when the MDD first came into law. No one could have conceived of a fitness tracking app, let alone a computerized surgical instrument. The MDR accounts for the full technological landscape, establishing guardrails for the regulation, manufacturing, and commercialization of cutting-edge medical devices.
Furthermore, the demographics of the EU (and indeed, the world as a whole) are trending older. Thanks to innovation in healthcare and other developments, people are living longer—and relying on medicines and medical devices more and for longer periods of time than ever before. This shift has precipitated increased public interest in device safety and efficacy, particularly over the long term.
While the MDD focused on getting a product to market, the MDR expands to consider the full product lifecycle: development, testing, manufacturing, commercialization, efficacy, safety, and long-term use. This is not to say that the MDD ignored those elements of medical device regulation and use. The MDR merely codifies their application in greater detail.
.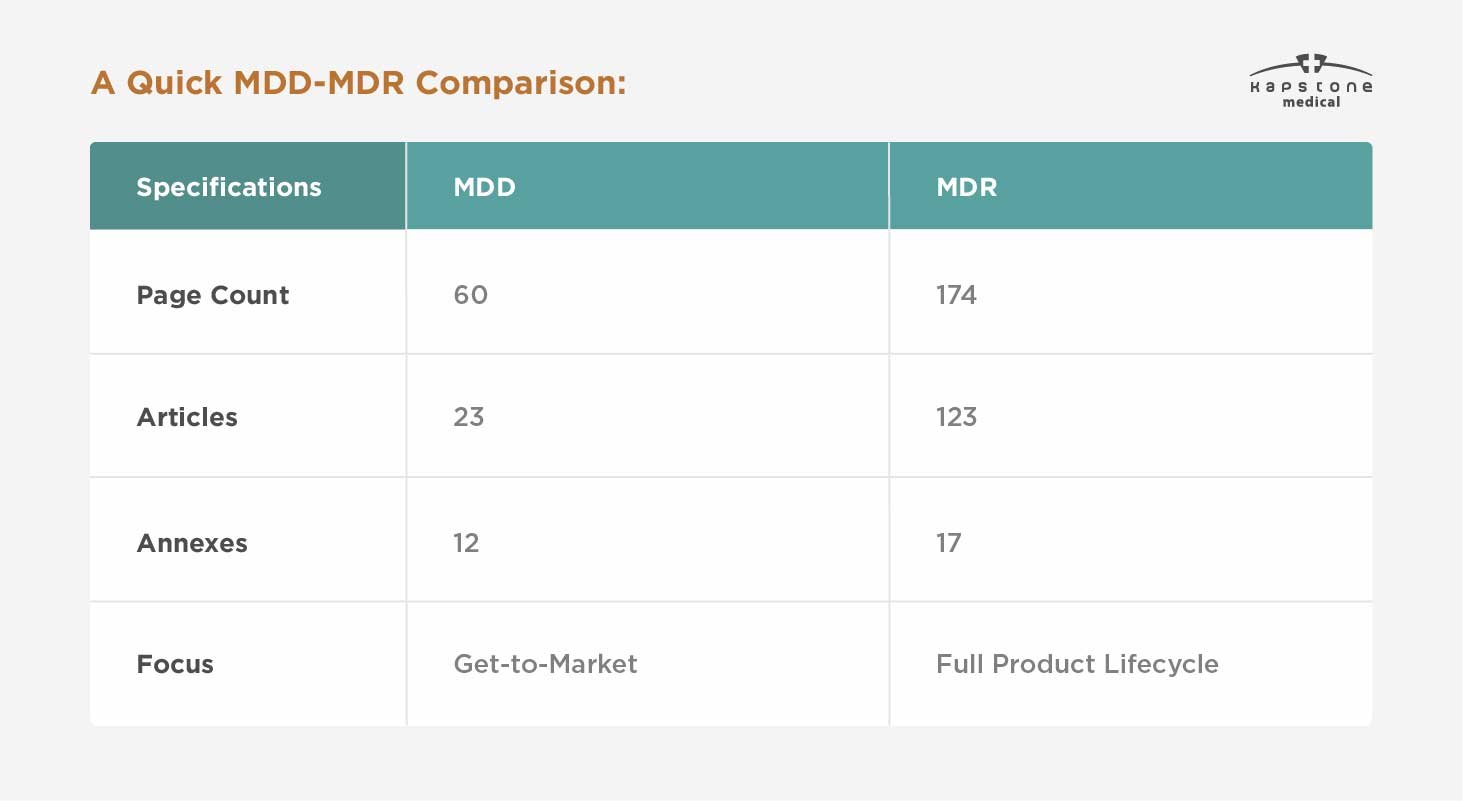 Key Difference 1: New Safety Requirements for Medical Devices

Safety evaluations have always been an integral part of medical device development, testing, and initial use. Fundamentally, the MDR expands on the MDD by increasing scrutiny on device safety throughout the full product lifecycle.
Pre-Market Requirements



Medical device development companies hoping to bring their products to market in the EU will now be required to submit additional safety and performance data. This shift is clear in the number of pre-market safety requirements. While the MDD had 13 Essential Requirements (ERs), the MDR now has 23 General Safety and Performance Requirements (GSPRs). New requirements include (but are not limited to):
Requirements for devices that administer or contain drugs
Specific requirements for devices that contain tissues of human or animal origin
Requirements for disposal
Requirements for devices to be used by people who are not medical professionals
General requirements for labeling
Post-Market Surveillance (PMS) Requirements



The MDR holds device manufacturers responsible for all PMS activities. Under this new regulation, manufacturers must:
Plan, establish, document, implement, maintain, and update a PMS system that is proportionate to a device's degree of risk and appropriate for its type
Actively and systemically gather, record, and analyze data on the quality, performance, and safety of a device throughout its lifetime
Holistically, the purpose of this reporting is to demonstrate that a product's actual market use mirrors its intended use, risks and risk management have not changed, device benefits continue to outweigh risks, and more. When changes, risks, complaints, or adverse events are identified, manufacturers are responsible for making the appropriate changes.
Reporting requirements vary drastically between device risk classes and types. Class I devices require only a consistent PMS report, but devices in higher risk classes also require a Periodic Safety Update Report (PSUR). A PSUR should include the results and conclusions of PMS activities and analysis, findings from any post-market clinical follow-up, and sales data. Manufacturers of Class III and implantable devices must also submit their PSUR to the notified body on an annual basis.
Finally, and perhaps most importantly, the MDR requires that certain serious incidents be reported within 15 days. Under the MDD, the window was 30 days.
Key Difference 2: New Concept of the Purpose of Medical Devices
This difference is creating a lot of buzz—and rightfully so! It represents a significant change to the categorization of medical devices. Under MDR guidance, products that were never previously categorized as "medical devices" now fall under that umbrella, and are subject to all class- and type-appropriate MDR requirements. These products include:
Contact lenses and other products used in or on the eye
Products introduced into the body via surgically invasive means to modify the anatomy
Products and substances used for facial or other subcutaneous fillings
Equipment used for liposuction, lipolysis, or lipoplasty
High-intensity radiation equipment used for tattoo and hair removal
Equipment that stimulates the brain via electrical or magnetic current
Products intended for cleaning, disinfection, and sterilization of medical devices
Products for the control and support of conception
Key Difference 3: New Medical Device Classifications

Many medical device companies have wondered if their products will be grandfathered into MDD requirements. The answer is clear: all medical devices that carry a CE mark will be required to meet the new EU MDR guidelines, and no devices will be grandfathered in.
Given the logistical and financial hurdles that manufacturers will have to overcome in order to achieve compliance, devices that already carry a valid MDD certificate will remain valid for five years from the date of that certificate's issuance. However, there are some MDR requirements that all devices must meet by May 26, 2021. Those requirements vary between device classes and types (ask a Kapstone consultant for help identifying the steps your company will need to take by 2021).
The MDR also reclassifies several devices into higher risk categories, meaning that devices may be subject to an increased level of scrutiny and both pre- and post-market regulation. Example reclassifications include (but are not limited to):
Under MDD, most medical software was classified as Class I. Under MDR, some may fall into higher classifications
All spinal disk replacement devices, devices that contact the spine, and extremity joint replacement devices will be reclassified from Class IIb to Class III (excluding components such as screws, wedges, plates and instruments)
Implantable devices that are Class IIb will be broken into Well Established Technology (WET) and non-WET categories
Invasive surgical instruments that are reusable have a new classification: Class Ir
And more



Here at Kapstone, we recognize that constantly-changing medical device regulations can cause frustration uncertainty. You and your team do not have to face this alone! Our expert consultants are here to help you understand the EU MDR and minimize disruptions to your business. Learn about our regulatory affairs services here.