The MedTech Industry has been very busy with 3D printing! From the first 3D printed human corneas and custom cardiac surgical devices to 3D printing helping in the development of mobile phone based medical devices, there was a lot of exciting events that occurred in October. Here is a quick overview of what you missed last month:
British Researchers Report First 3D Printed Human Corneas
Researchers have announced that they have successfully used 3D printing to produce the first human corneas for transplant. A research team at the Institute of Genetic Medicine demonstrated the use of collagen-based bio-ink containing encapsulated corneal keratocytes, the primary cells that form the cornea, to produce a cornea that could be transplanted into a human eye.
The objective of the experiment was to determine if human stem cells, called human corneal stromal cells, could be combined with a collagen solution to make a bio-ink that could be used in a 3D printer to produce a transplantable cornea.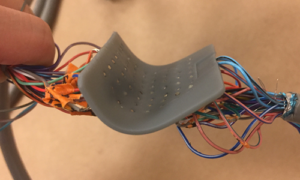 Using 3D printing to develop custom cardiac surgical devices
Researchers at Stanford University have used 3D printing to develop a cardiac surgical device that can survey the electricity in the heart. The device has the potential to help patients who are suffering from atrial fibrillation, a heart condition characterized by an irregular heartbeat. The cardiac device is small, thin and features a flexible silicone membrane with small holes in a grid formation.
3D Printing Aids Development of Mobile Phone-Based Medical Devices
The computational power of smartphones can reduce the size and cost of medical devices that have the potential to save lives. 3D printing can help to quickly iterate designs, test new ideas, and improve technologies at a faster rate. According to Ozcan Research Group, 3D printing may lend a helping hand in various fields.
3D printing: The future of manufacturing
3D printing is altering the future of manufacturing. In the Unites States alone, 3D printing technology has been forecast to grow to more than $30 billion by 2023. It is currently creating a big impact on the manufacturing industry and will continue to grow in various fields in the future like design, prototyping and product production.
For more information on the latest Medical Device, Manufacturing, and 3D printing news, follow us on Twitter or join us on LinkedIn!