Lots went on in the 3D Printing field last month. From 3D printed light receptors for prosthetic vision devices to $10 3D ultrasound chips and 3D printing for spinal cord injuries to 3D printed model body parts, a lot went on in the month of November. Here is a quick overview of what you missed: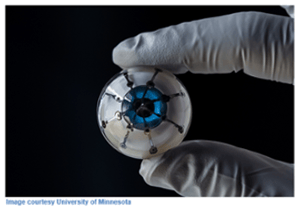 Researchers 3D-print light receptor array on a curved surface
Recreating the photosensitive array of receptors in the retina on a curved surface has been known as one of the largest challenges for researchers that are attempting to develop a prosthetic vision device. Despite the challenge, researchers at the University of Minnesota have fully 3D printed an array of light receptors on a hemispherical surface for the first time.
$10 chip changes standard ultrasound into 3D
In a novel adaptation of the chip in your smartphone that tracks how your phone is oriented can turn a $50,000 2D ultrasound machine into an ultrasound with 3D capabilities rivaling that of $250,000 counterparts. And here is the wow factor, the chip costs $10. Researchers and engineers at Duke University and Stanford demonstrated their device last year at the American College of Emergency Physicians Research Forum in Washington, D.C.
3D-printed device could treat spinal cord injuries
Researchers have envisioned a guide that will be surgically implanted into the area of a spinal injury where it will act like a scaffold allowing 3D-printed living nerve cells layered into the scaffold to grow together above and below the injured area. It is a two-step process that starts with any cell type from an adult, like skin or blood cells. With bioengineering techniques, the cells are reprogrammed into neuronal stem cells. While an implant into a human will require much more research, a study published in the journal Advanced Functional Materials showed it is feasible.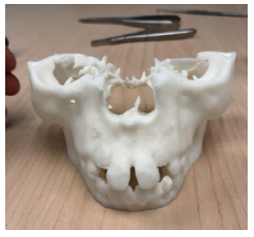 These 3D-printed body parts let surgeons practice on a model before they open you up
Northwell Health is creating detailed, 3D-printed models of different body parts to help surgeons plan their operations better. This could mean less time in the operating room and less complication risks. These 3D-printed models can be a game changer for surgeons and patients and allow for more patient-specific treatments.
Kapstone Medical has the experience and expertise across the full range of medical device manufacturing to help you navigate the development, protection and approval processes.
Visit our website or Call Us Today to learn more! Phone: (704) 843-7852 – email: info@kapstonemedical.com
For more information on the latest Medical Device, Manufacturing, and 3D printing news, follow us on Twitter or join us on LinkedIn!