FDA registration is mandatory for all businesses involved in the commercialization of medical devices in the United States. Unlike FDA submissions, typical only for companies developing new devices, registration is a required step for almost any business involved in the process of getting a medical device to market.
In this blog, we'll walk you through the how's, when's, and who's of FDA establishment registration. If you're wondering if you need to register, confused about how to start the process, or running into problems along the way, this blog should help.

You can also reach out to the Kapstone team for guidance at any stage in your regulatory process (or before). We have decades of experience helping medical device companies of all sizes navigate an efficient, effective path to compliance. For more on our expertise in regulatory affairs, click here.
FDA Establishment Registration Guidance
Businesses involved in the production or distribution of medical devices that are intended to be sold in the United States must register with the FDA every year. This includes medical devices that are imported to and then exported from the U.S.
What Is FDA Establishment Registration?

According to the FDA, "knowing where devices are made increases the nation's ability to
prepare for and respond to public health emergencies."
In addition, registration systems provide the FDA with a clear, up-to-date picture of the U.S. medical device market. Knowing which devices are on the market, including where they are manufactured and distributed, helps the FDA efficiently link adverse events to companies.
Who Needs to Register With the FDA?
Any establishment that takes part in the production or distribution of medical devices that are intended for commercialization in the United States, including devices that are imported to then be exported, must register with the FDA every year.
Registration requirements vary based on establishment type and the activities performed there, as well as between domestic and foreign establishments.
In addition, the FDA requires that some medical device companies not only register their establishment, but also list the activities performed at their facilities.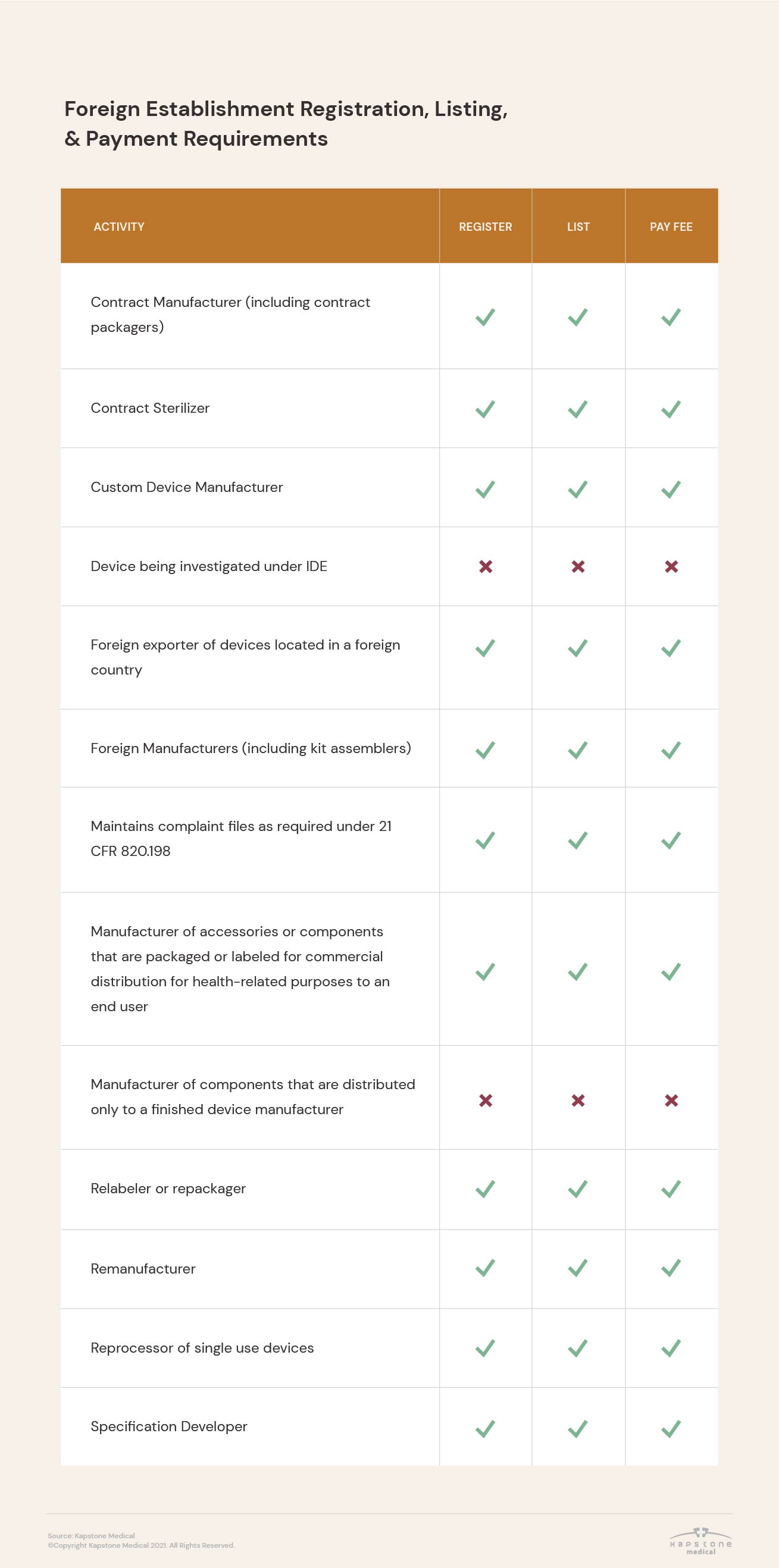 How to Register Your Establishment with the FDA
The registration process has five steps:
Pay your annual registration fee
Log into FURLS
Complete or update the Device Registration & Listing Module (DRLM)
Download your listing information from FURLS
Submit and await confirmation
You cannot consider your establishment as "registered" or market yourself as an FDA-registered entity until all of these steps are complete.
You can reach out to the team at Kapstone for assistance with any or all of these steps.
When to Register Your Establishment with the FDA
We've talked in great detail about how to register your establishment. But how do you know when it's time to register?
There are three points where you should register your establishment or update your registration:
1. Initial Registration
You must register your establishment with the FDA within 30 days of beginning "activity" or commercial distribution in the United States. Foreign establishments have to register before exporting products to the U.S., and domestic establishments must register before importing.
If your device requires premarket notification clearance or approval, you will have to wait until those processes are complete to register your establishment and list your device(s).
2. Annual Registration
You must update your FDA establishment registration and listing information each year. The submission period is between October 1 and December 31.

TIP: you will need to re-submit your registration and listing information even if no changes have occurred to your establishment.
3. Updates
Your FURLS owner/operator can access the system to make changes at any point during the year. It's important to keep the FDA apprised of any relevant changes that happen to your establishment or listings. Those might include:
Introducing a new device into commercial distribution in the U.S.
A change to a previously listed device, such as manufacturing location
Removing a previously listed device from the market
Resuming commercial distribution for a previously paused listing