Stormram 4 sounds like the latest video game from Xbox, instead it is a unique robot made from 3D printed plastic that may provide an unprecedented level of accuracy in doing breast cancer biopsies.
Developed by a Dutch researchers at the University of Twente in Enschede, Netherlands, Stormram 4 is made of plastic for use inside an MRI scanner giving doctors real-time imaging to guide the biopsy needle to the suspicious lesion, and remove a sample that can be examined under microscope to determine if the tissue is cancerous or not.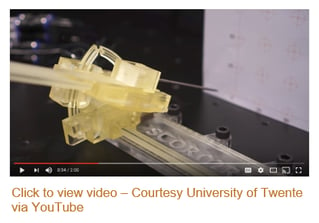 make a precision plastic robotic device small enough to fit inside the narrow tunnel of a MRI machine. It is driven by rectilinear and curved air-pressure motors controlled by pneumatic tubing rather than wires, which is essential for functioning inside the high intensity magnetic field created by the MRI machine for imaging.
The researchers led by Engineer Vincent Groenhuis explained in a press release that 3D printing allows them to
Groenhuis said in an email interview that the Stormram 4 was printed using a Polyjet printer and FullCure720 resin. "It works a bit like an inkjet printer. The print head emits different kinds of tiny liquid droplets on a surface," he added. "A UV lamp illuminates the surface everywhere, and cures the liquid which becomes hard (for model material) or semi-solid (for support material. As with most other 3D printers, vertical movement allows building the entire model layer by layer."
The entire device can be printed in about half a day, and while it may be used for some other tumor types, it would have to be redesigned and reprinted to biopsy other tumors, such as prostate cancer due to the kinematics and force needed for prostate tissues.
The Stormram 4 can also be used for treatment using a needle to either ablate a tumor with heat or by freezing in a noninvasive procedure.
Stormram 4 was developed through a collaboration of professors Groenhuis, Dr. Francoise Siepel and Stefano Stramigioli of the university's Robotics and Mechatronics Laboratory and by radiologists Drs. Jeroen Veltman at Ziekenhuis Groep Twente and Abe van der Were from MRI coil-maker Machnet B.V.
It won top honors during the Surgical Robotic Challenge at the international Hamlyn Symposium in London last June.
Whether you are an inventor or a company working to develop medical solutions using additive manufacturing, Kapstone has the experience and expertise to help you rapidly develop and commercialize any aspect of medical device manufacturing including additive manufacturing processes. For more information, contact us today at (704) 843-7852 or email us directly at info@kapstonemedical.com.
For more on the latest 3D printing technology news check out our latest blog; What You Missed Last Month - July Edition.